Together Time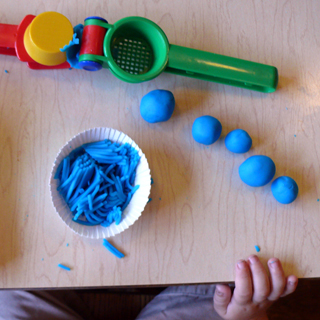 Grace Church School offers a Together Time program for younger children not yet old enough for preschool.
Enrollment in Together Time does not constitute enrollment in the School; a separate admissions application is required to enter the Twos (or Threes) program.
Request an application for Together Time for the 2018–2019 school year.
Applicants for the Together Time program beginning in late September 2018 must be 16 to 25 months by September 2018 (the applicant's birth date must fall between August 1, 2016 and May 31, 2017).
Together Time meets Tuesday and Thursday mornings or Tuesday and Thursday afternoons for 1½ hours. A parent or caregiver attends the program with the child.
The class is a bridge from life at home to the years ahead at school. Led by an early-childhood educator, the program provides a rich group of experiences in a warm, safe environment. Children and adults explore and grow together. They enjoy free-flowing play, singing, snack, and gym time. For parents and caregivers, this is a comfortable place to carry on informal discussions about child development and parenting.
Applications are due at the School by Friday, November 17, 2017. Notification will be sent in March 2018.