Admissions
Twos to Pre-Kindergarten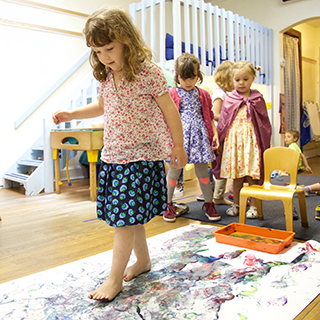 Grace Church School actively encourages a diverse educational community. We welcome boys and girls of all faiths, races, ethnic and economic backgrounds.
Application requests (Twos through Pre-Kindergarten) for the 2019–2020 school year will be available online beginning Wednesday, September 5, 2018 at 9 am.
Applications will be assigned in the order that the online requests are received. Once all of the applications have been assigned, your name will be placed on a wait list. The School will contact you if additional applications become available. After submitting the application request, you will receive an email confirming receipt with a link to the application (or notification that you have been placed on a wait list).
Completed applications, including a non-refundable application fee of $75 and family photo, must be submitted online by

 

Friday, September 28, 2018.
Tours, which will take place at 9:30 am on select weekdays throughout October and November, will be assigned via email once applications are submitted.
Informal playgroups will be conducted in December for Special Consideration candidates and in January for all other applicants.
Notification will be emailed on Friday, January 18, 2019 for Special Consideration applicants and 

Thursday, February 28, 2019

 for all other applicants.
Please note that children attending Grace Church School must be up-to-date with immunizations. Only medical exemptions will be accepted.
Special Consideration
In order to be eligible for special consideration, a child must meet one or more of the following criteria:
Sibling of a child who has attended Grace Church School for two or more years
Child of a Grace Church School alumni
Child of a Grace Church School staff member
Child of a Grace Church Brooklyn Heights parish member (eligibility for consideration as a parish member is based on active participation at Grace Church)
AND indicate a preference for early notification and commitment on the application
All parents, including parents of applicants whose siblings attend or have attended Grace Church School, MUST request an application online.
Special consideration eligibility does

not

guarantee admission to the school.
Eligible families who choose to apply under special consideration will be notified on January 18, 2019. If offered admission, a commitment, with a contract and deposit, is due by Friday, January 25, 2019. Eligible families may opt for the general applicant pool with notification on February 28, 2019.
Age Cut-Offs
The primary point of entry to the preschool is the Twos program.
Applicants for the Twos Program beginning in September 2019 must be two by July 31, 2019 (the applicant's birth date must fall between September 1, 2016 and July 31, 2017).
Applicants for the Threes Program beginning in September 2019 must be three by August 31, 2019 (the applicant's birth date must fall between September 1, 2015 and August 31, 2016).
We generally have very few, if any, new spaces for our Pre-Kindergarten classes. However, we welcome you to apply and will contact you if a space becomes available. Applicants for the Pre-K program beginning in September 2019 must be four by August 31, 2019 (the applicant's birth date must fall between September 1, 2014 and August 31, 2015).
Together Time
Grace Church School offers a Together Time program for children not yet old enough for preschool. Enrollment in this program does not constitute enrollment in the pre-school; you will need to apply separately for admission into the Twos or Threes program. See information on Together Time, including how to apply. Applications for Together Time for the 2019–2020 school year are due Friday, November 16, 2018.
Financial Aid
Grace Church School is committed to making pre-school a viable option for all. Financial Aid is available for students from Twos through Pre-Kindergarten and is awarded on the basis of need and availability of funds.
On your application, please indicate if you are interested in applying for Financial Aid. The deadline for applying for Financial Aid is December 3, 2018 for returning and special consideration families and January 14, 2019 for general applicant families.
Grace Church School sets aside 6% of its tuition income for financial aid each year. In addition, thanks to a generous gift in memory of former Grace Church School teacher, Betty McDonald, the School is also able to award financial aid each year from the Betty McDonald Scholarship Fund.
Class & Tuition Schedule