Director's Letter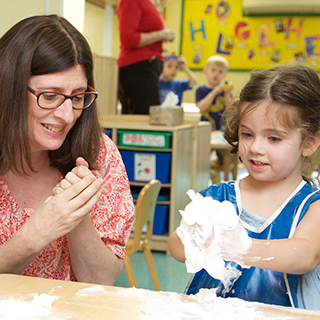 Dear Families,
On behalf of the Grace Church School community, welcome to our website!
As the oldest preschool in Brooklyn, we are a learning community that embraces our traditions, and at the same time we are informed and guided by current research regarding best practice in the 21st century.
At GCS, the foundation of our practice begins with the philosophy that children are more apt to ask questions and approach challenges in a classroom where they feel safe and nurtured. The teachers at GCS are deeply committed to ensuring that every child feels respected and valued, with the understanding that a child's first school experience can set the stage for a love of learning that continues beyond preschool.
Our classrooms reflect a balance between open-ended and structured learning activities. Children learn what it means to be a member of a classroom community, the value of embracing differences amongst their peers, and how to be a friend. We believe that social and emotional development is integral to intellectual development and achievement. At GCS, children are active participants in the learning process.
Encouraging parent participation and building a bridge between home and school is essential to our program's goals. Supporting strong teacher-parent relationships enhances and extends our understanding of the children in our classrooms.
The essence of Grace Church Nursery School is reflected in the warm spirit of its community of children, parents, teachers, and staff. It is an inclusive and supportive community where life-long friendships are formed.
I invite you to explore our website and learn more about our school community. I look forward to meeting you!
—Amy
Amy Morgano
Grace Church School Director